Turn store bought cake mix into a Halloween cupcake that's so cute it's scary. These easy monster strawberry cupcakes will wow at Halloween parties and are scarily delicious.
This post and recipe was created for #HalloweenTreatsWeek! I was sent samples by some of the sponsor companies but as always opinions are 100% mine.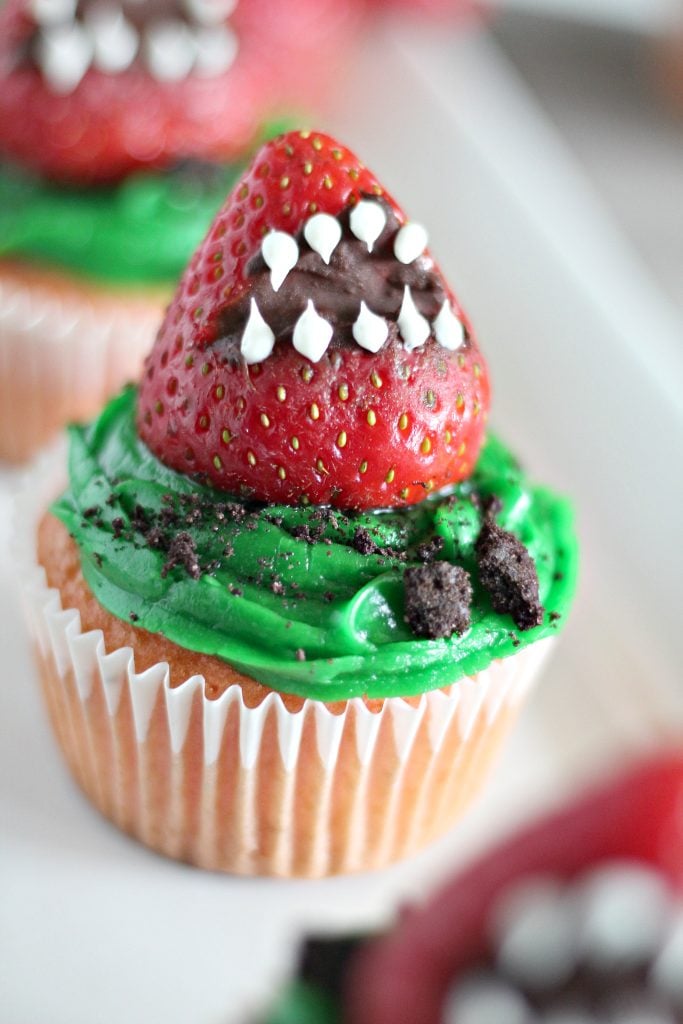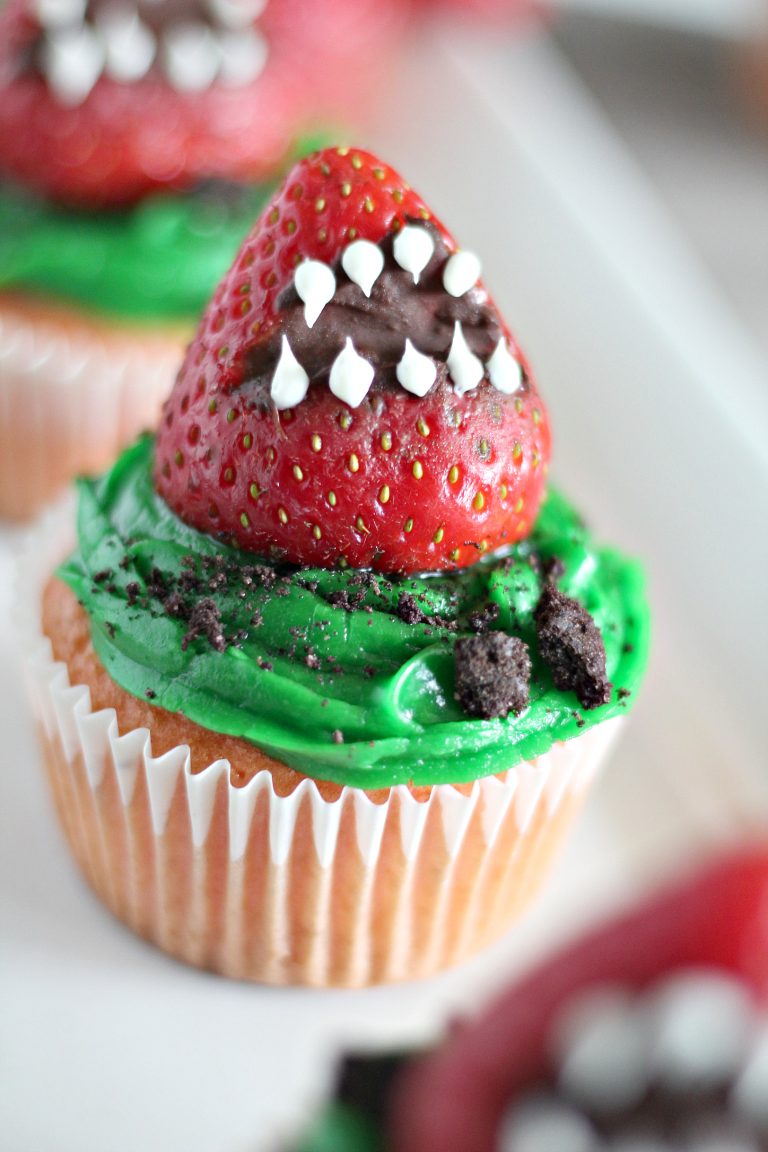 For the second day of #HalloweenTreatsWeek I'm sharing these monster strawberry cupcakes.
These adorable Halloween cupcakes have a Little Shop of Horror feel, turning the strawberry into a monster plant complete with teeth.
The strawberry plant monster also reminds me of the evil piranha plants from Super Mario Brothers. In fact, we made a version of this cupcake for my son's Super Mario themed party.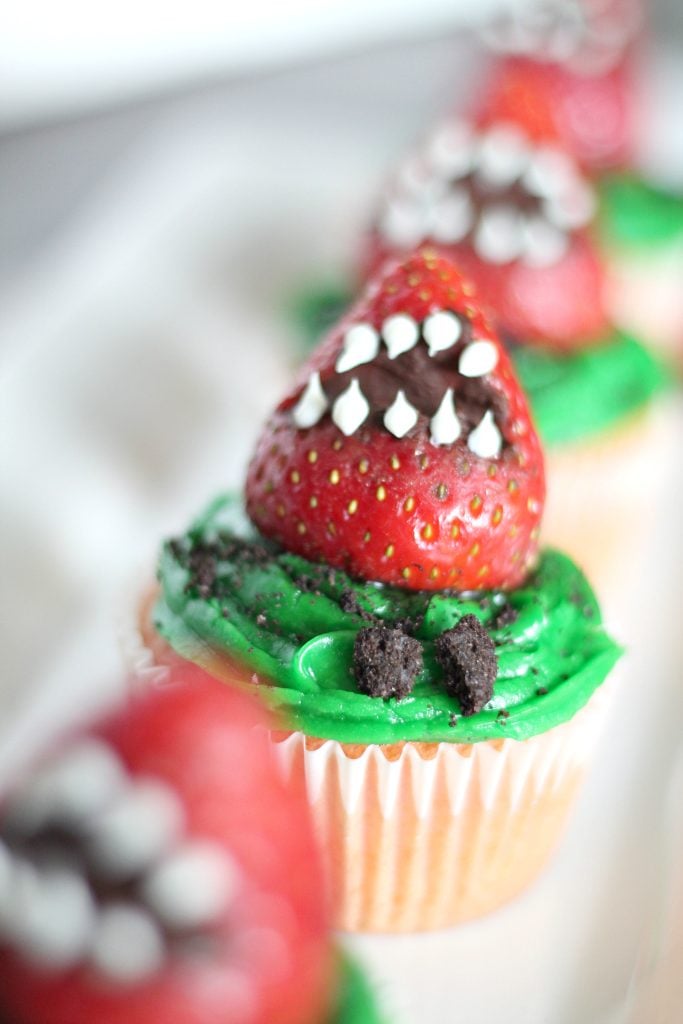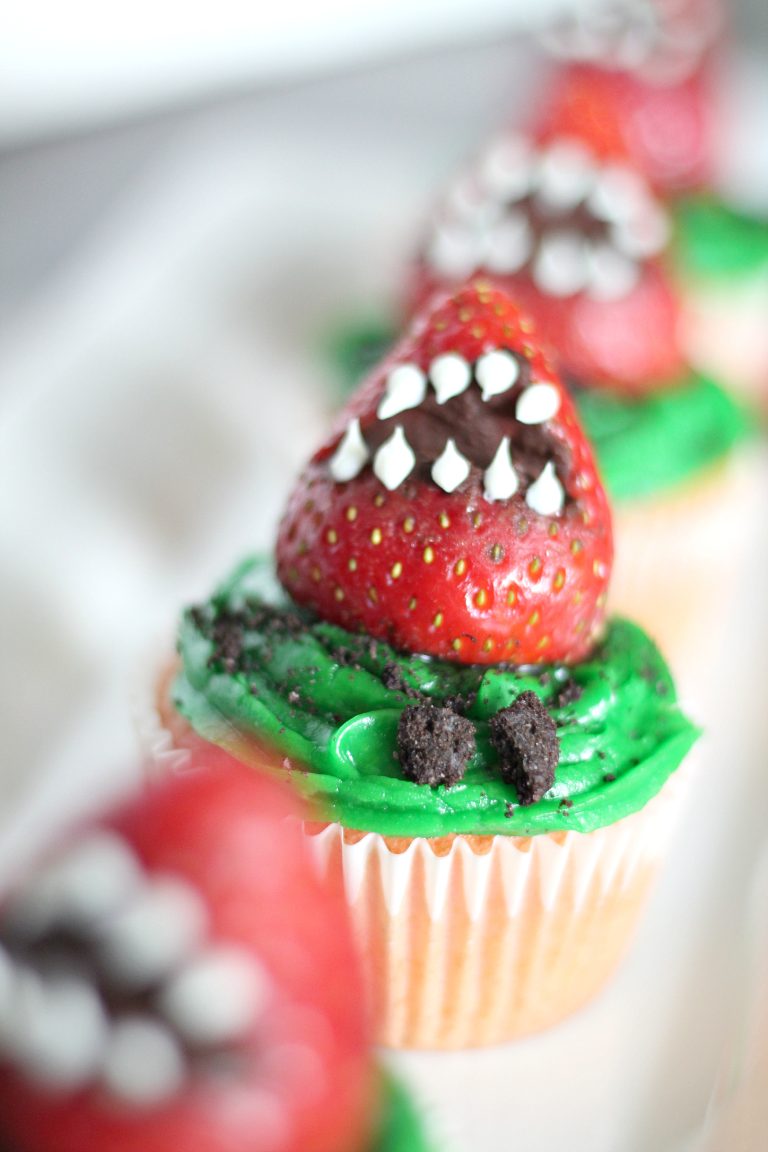 Worried that making this flesh eating monster is hard? Don't worry.
You can turn strawberries into the scariest plant around in a snap and I'm taking lots of shortcuts here to get you out of the kitchen faster.
But before we talk about making the Halloween cupcakes, let's talk about making the strawberry monsters.
How to Turn a Strawberry into a Monster
Making monsters out of strawberries is very easy. Just cut the tops off of 24 strawberries.
Then cut a mouth shape into each strawberry as shown.
Now pipe melted chocolate chips into the mouth of each strawberry. At this point the chocolate needs to set.

I like to pop my strawberries into the freezer for an hour to let the chocolate fully harden.
Then to finish them off, you can pipe white teeth onto each strawberry monster mouth as shown. I use a piping bag and a 02 tip to do this.
Let the teeth set and then you can top your decorated cupcake with the strawberries.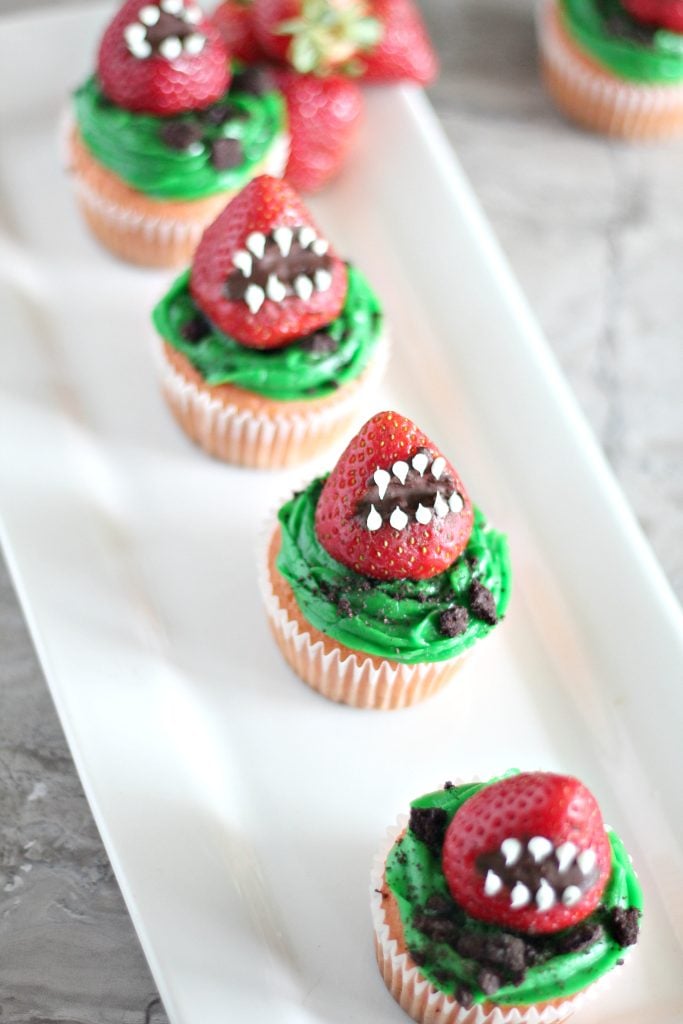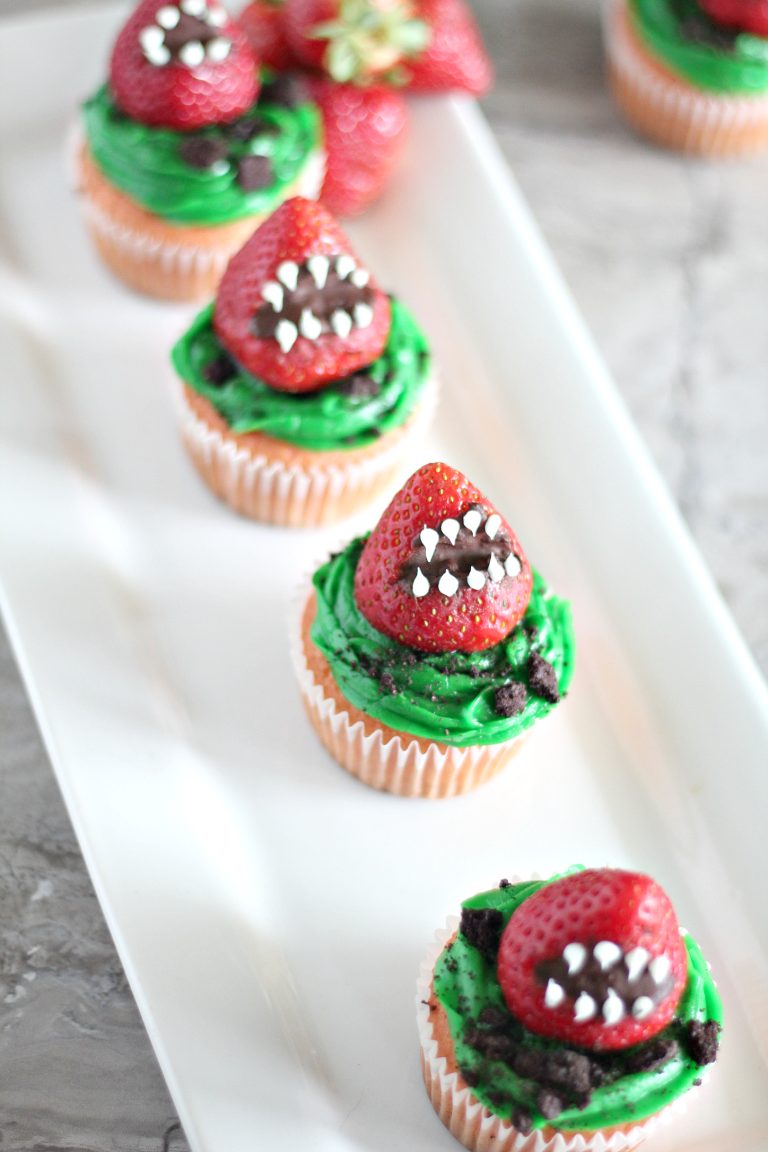 Cake Mix Hacks: Make Easy Strawberry Cupcakes
You're not going to make the cupcakes or icing from scratch. Just buy a store bought package of white cake mix and a store bought green icing.
You're going to use the box of white cake mix as a base for the strawberry cupcakes and dress it up. See? Short cut! Who doesn't love treats that start with a box, but can be easily froof-ed so that no one would ever guess?!
Instead of following the directions on the box, you're going to mix the cake mix, jello, strawberry juice, eggs, and oil together to form your batter.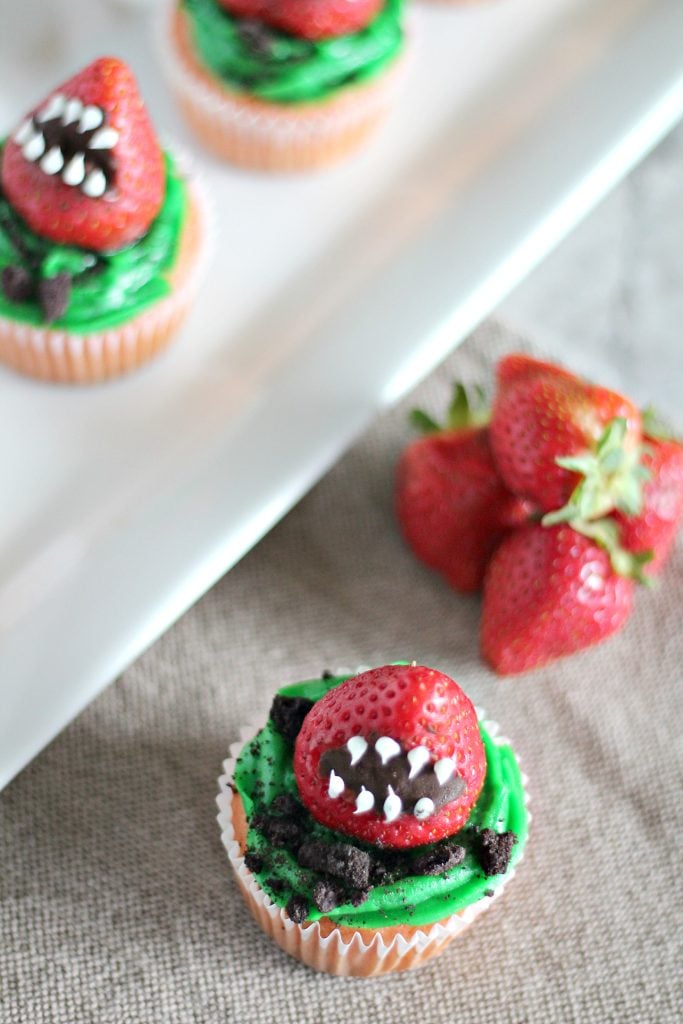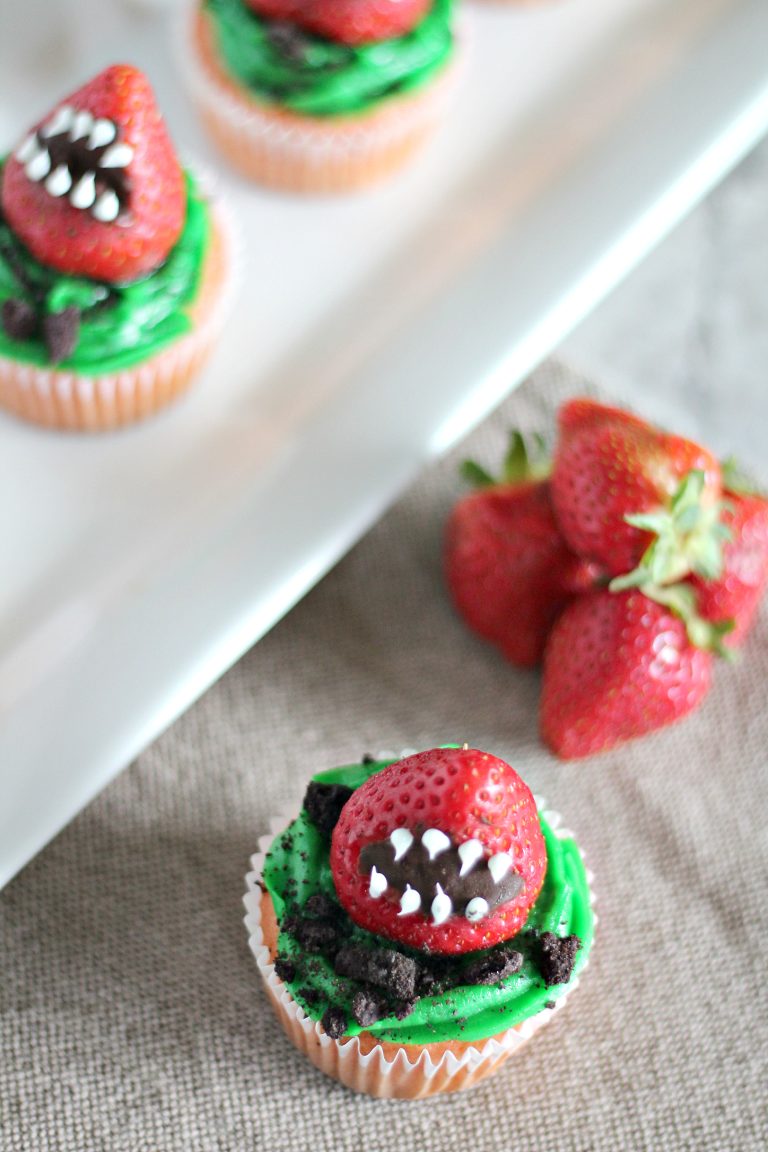 Then spoon your batter into cupcake pans lined with liners. Bake them according to the box instructions for about 15 to 20 minutes or until a toothpick inserted into the center comes out clean.
Assemble Your Monster Cupcakes
Once your cupcakes are cool, ice each one with green icing. Then sprinkle them with crushed Oreos to make dirt. Lastly, place the finished monster strawberries onto each cupcake.
That's it! Pretty easy and you wind up with an impressive Halloween treat.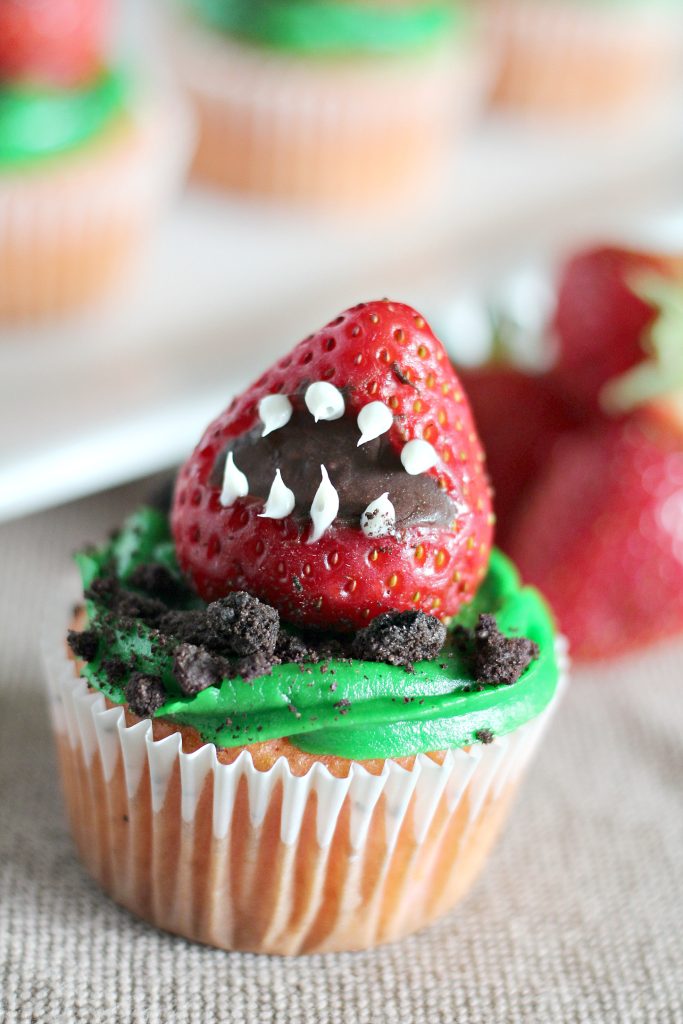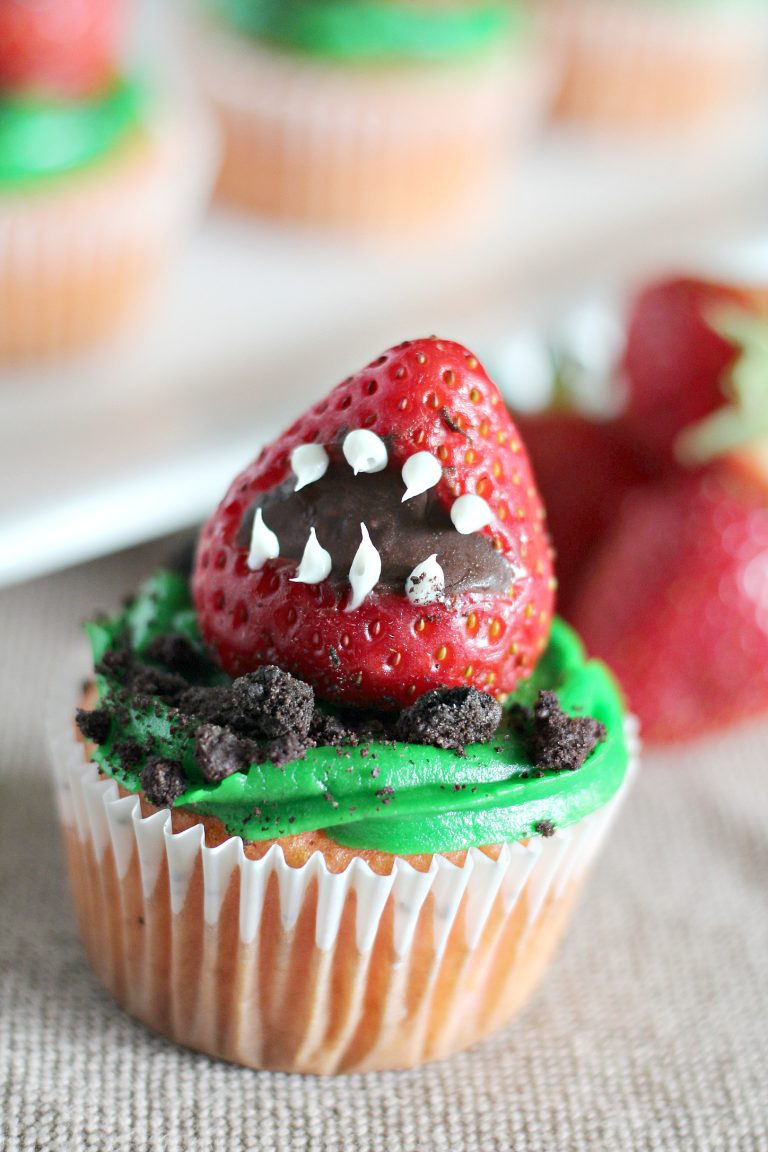 Other Halloween Cupcakes You Might Love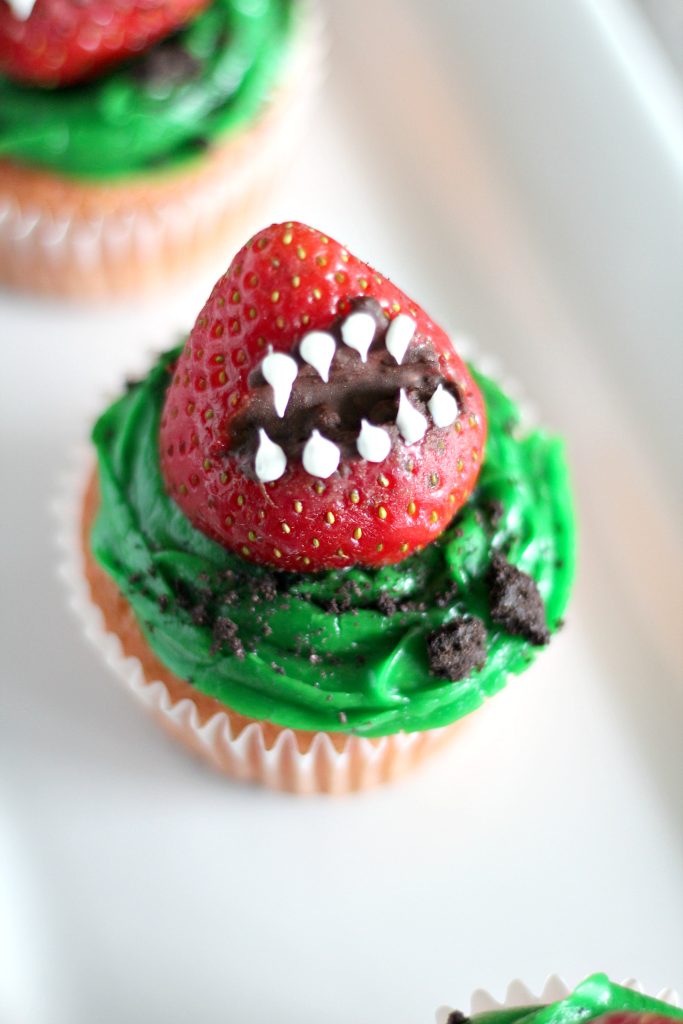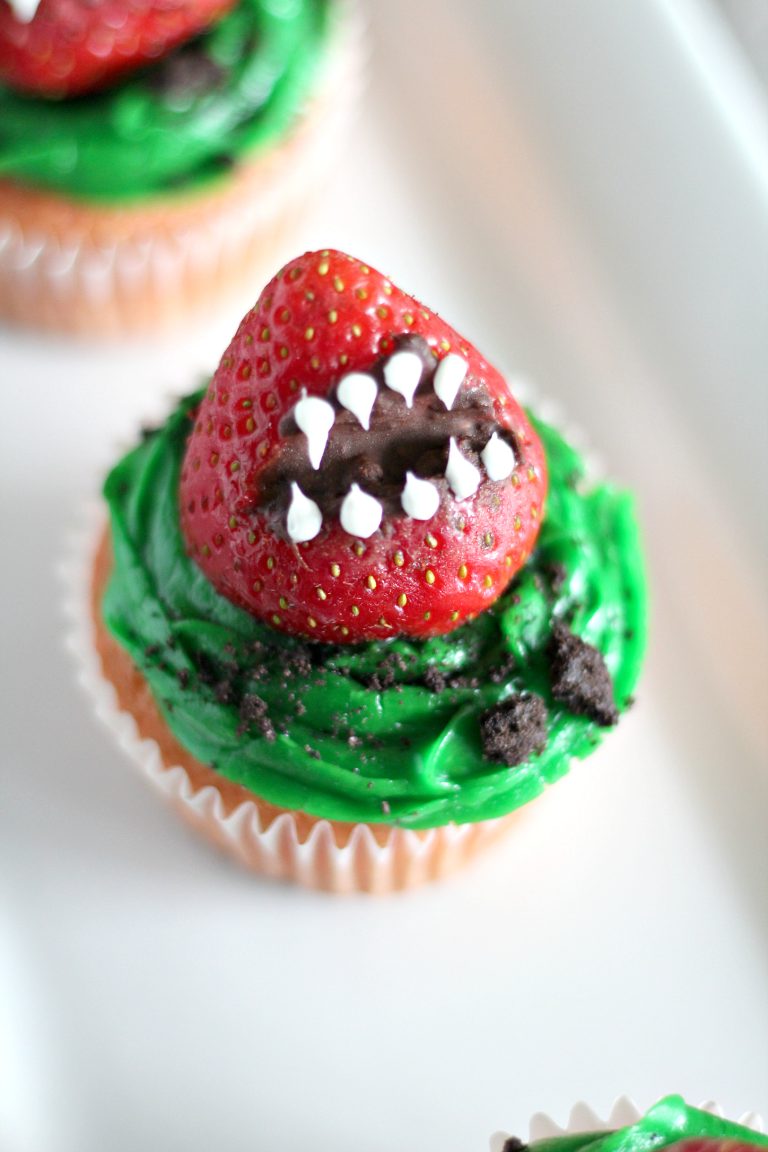 Make sure you serve these monster strawberry cupcakes with Little Monster Mocktails for a legit monster mash up that's perfect for any Halloween-themed party!
Monster Strawberry Cupcakes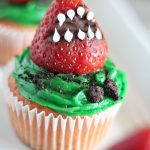 Tasty strawberry cupcakes have been given a spooky makeover & turned into fun, festive Monster cupcakes that're perfect for any Halloween party.
24 Large Strawberry's
1 package of Dark Chocolate Chips
Wilton white Icing
Pipping Bag and 00 Pipping Tip
1 package of White Cake Mix
1 package of Strawberry Jello
4 Eggs (lightly beaten)
1 cup of Vegetable Oil
1 cup of Strawberry Juice (you can mash strawberries, drain the juice and mix with water)
Wilton green icing
Oreo Crumbs (for garnish)
Start by cutting the tops off of each strawberry and cutting "a mouth" out of the side of each one, as shown.
Melt down you chocolate chips in the microwave in 45 second intervals until melted, stirring frequently.
Spread melted chocolate into the "mouth" of each strawberry, as shown.
Freeze for one hour.
Mix your dry cake mix, jello, eggs, oil and strawberry juice.
Mix until smooth.
Line a cupcake pan with cupcake liners, and fill each one half way with batter.
Bake at according to box mix instructions, about 15 to 20 minutes, or until baked through, and toothpick comes out clean.
Let cool.
Ice each cupcake with green icing.
Sprinkle with Oreo crumbs.
Remove strawberries from freezer and pipe "teeth" on to each one with the white icing, as shown.
Place one strawberry on the top of each cupcake.
Serve and enjoy!
Happy Halloween! It's October which means it's time for Spooky Season and this year's #HalloweenTreatsWeek event! #HalloweenTreatsWeek is hosted by Angie from Big Bear's Wife & its a creepy and haunting week-long event is filled with some amazingly wicked Halloween treats, recipes and some frightfully fun giveaways.
"When witches go riding, and black cats are seen, the moon laughs and whispers 'tis near Halloween."
For the 2nd annual #HalloweenTreatsWeek event we have 41 fantastically talented bloggers that are sharing their favorite Halloween recipes throughout the week! There are going to be over 160 Halloween themed recipes shared during this year's #HalloweenTreatsWeek and we can't wait for you to see them all! Follow the hashtag #HalloweenTreatsWeek on social media and look at the bottom of each post to see all of the Halloween recipes that we're sharing!