This light and fizzy apple cider sangria is the perfect easy cocktail to serve at a fall brunch alongside a fluffy stack of apple pie pancakes. With sparkling cider and white wine, this delicious fall sangria delights on bright fall days before the winter chill sets in.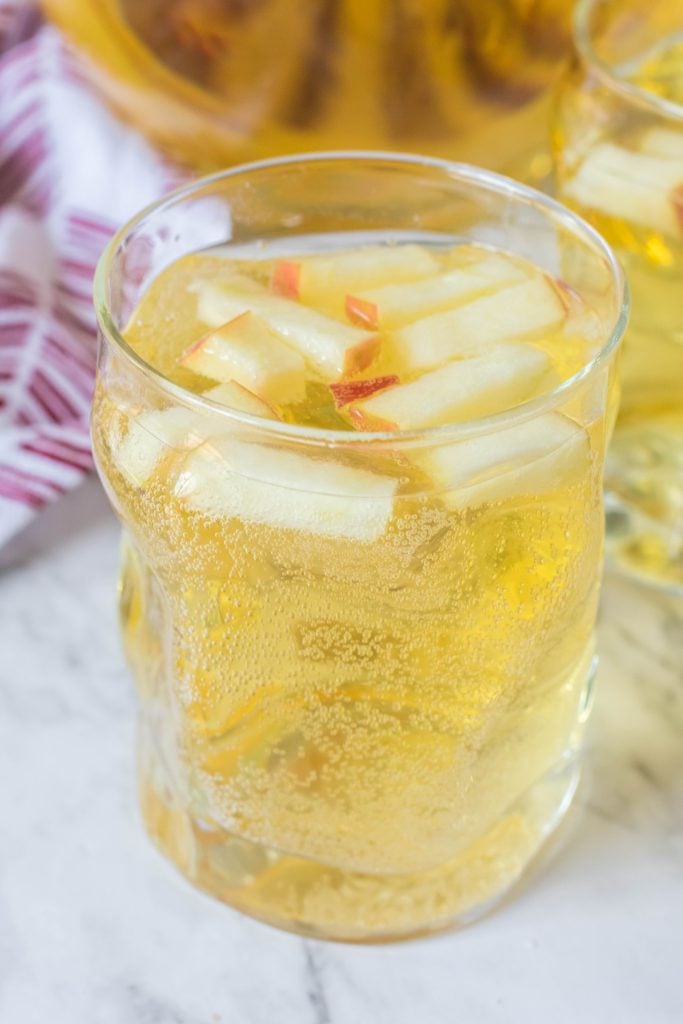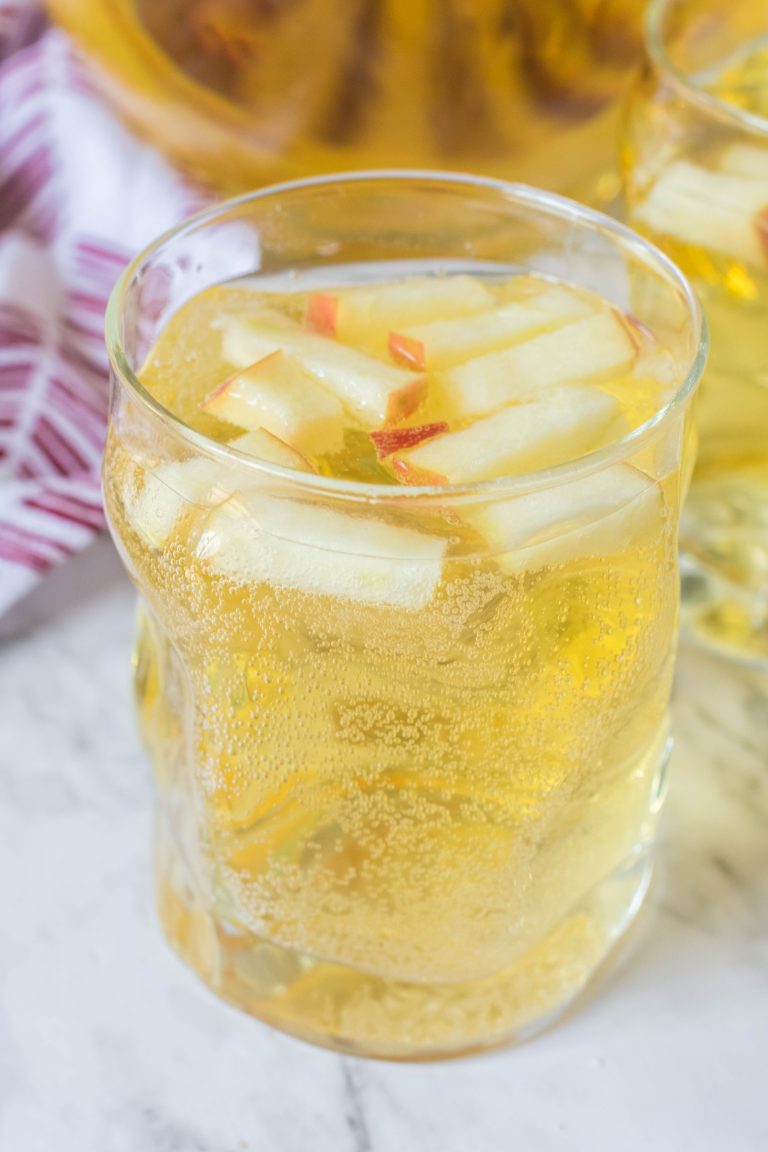 It's always just a little sad when summer ends. Partially because with the end of summer comes the end of tropical sangria season and the end of lazy afternoons spent sipping adult beverages in the sun.
If you also get sad about the thought of those summer pleasures coming to an end, I have something to make you feel a lot better. A sparkling apple cider sangria that's crisp, sweet, and bubbly. It's perfect for Fall- and even holiday season- brunching.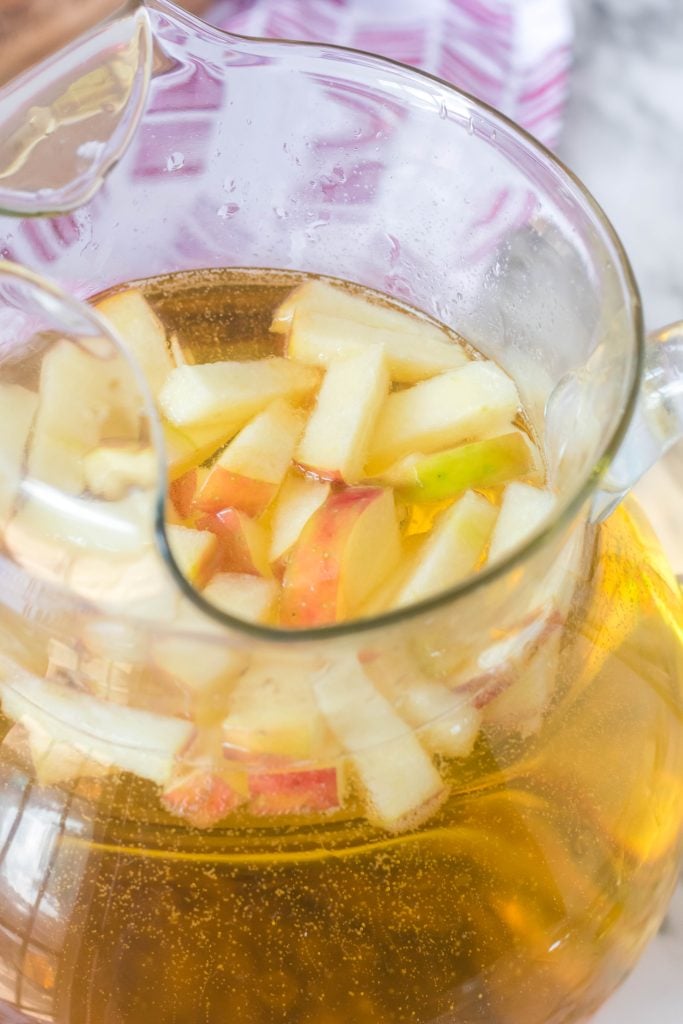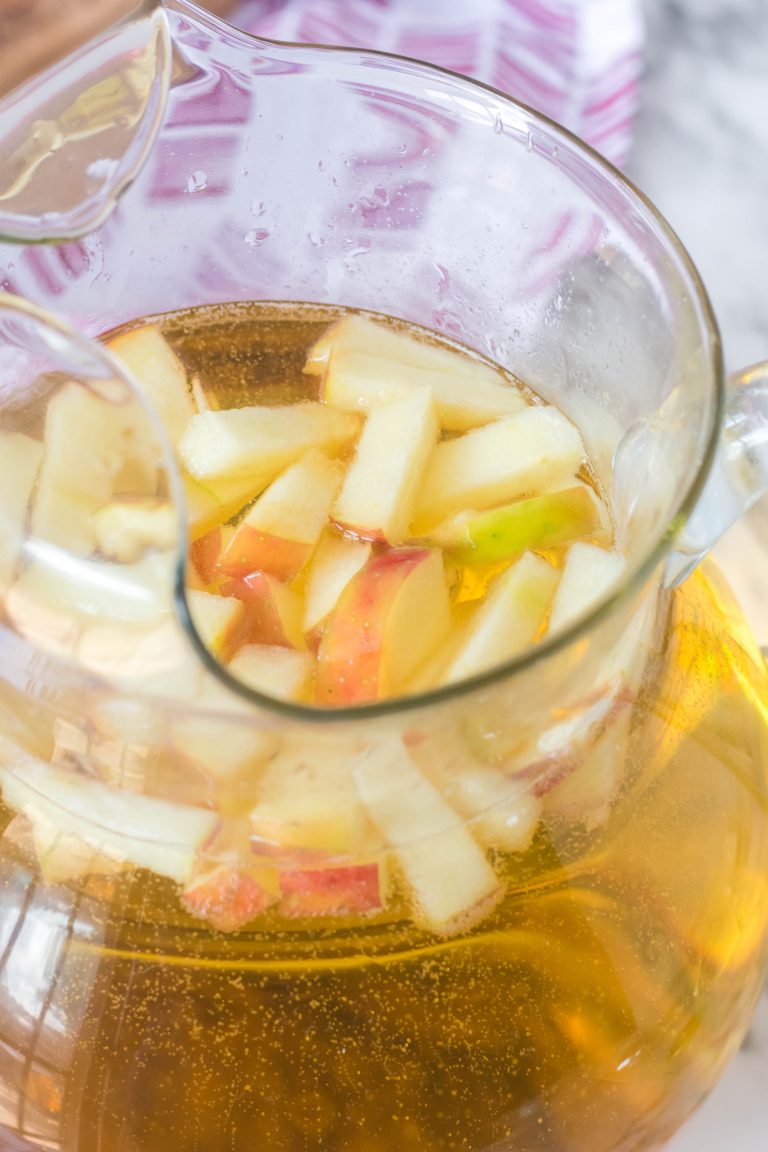 Sparkling Apple Cider Sangria: The Easiest Fall Drink Ever

This sparkling apple cider sangria is so easy to make. Unlike a lot of other sangria recipes this one is only three simple ingredients:
1 cut up apple
a bottle of white wine
a bottle of sparkling apple cider to add the must have fizz & flavor
That's it! To make it, you just cut up your apple and add it to the bottom of a pitcher. Then pour in the wine and cider and give it a good stir.
You can serve it immediately, pouring it over ice or frozen fruit or you can wait and refrigerate it.
If you are planning to wait to serve it, do toss the apples with a little lemon juice to prevent them from turning brown. Whatever floats your apple cider sangria boat.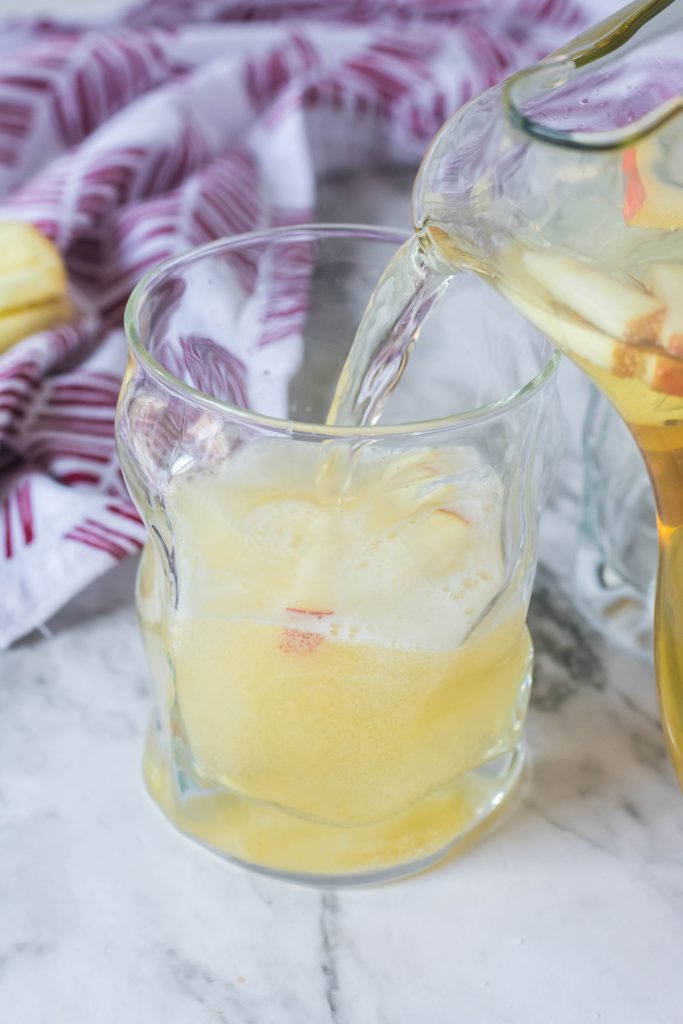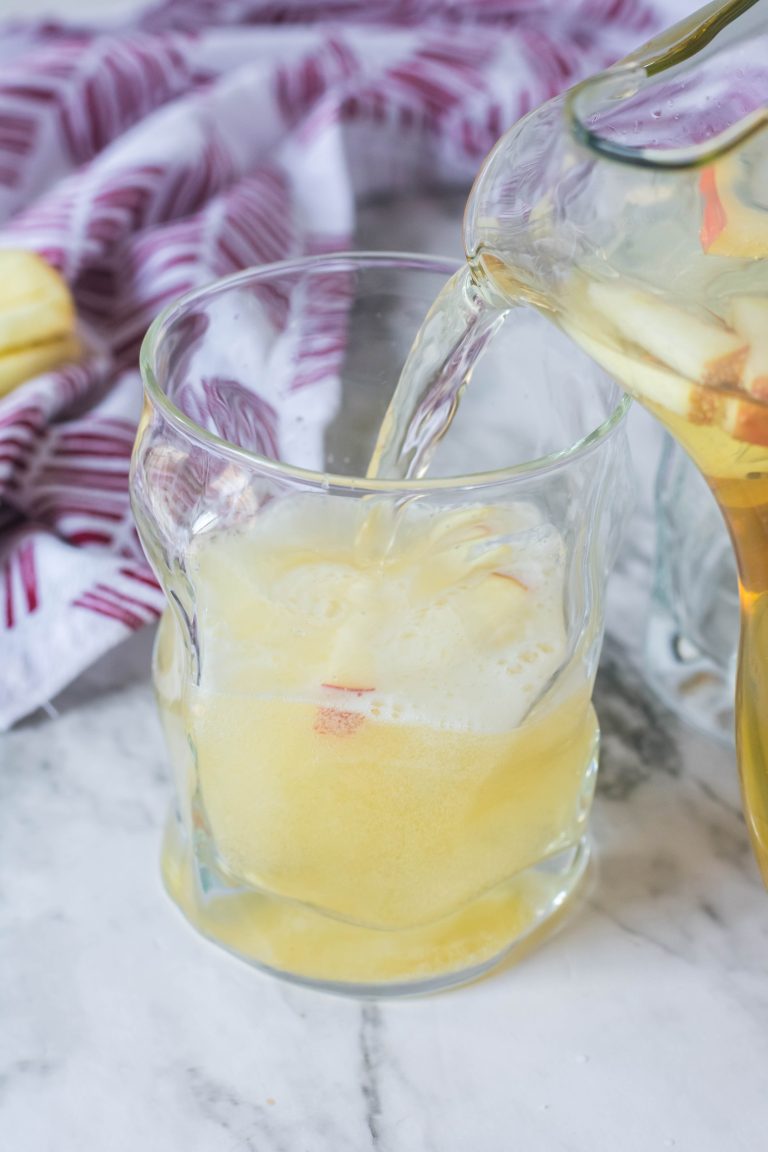 Make Your Apple Cider Sangria Fancy
While I love this fall spritzer served as is, you can certainly fancy it up a bit. For starters, I make this drink with Barefoot white wine because it's budget friendly and still delicious. If you'd like you can use your favorite, higher end white wine. Just avoid the dessert wines. I find them to be too sweet.
Feel free to add a chopped pear and a couple cinnamon sticks to the pitcher. You can also garnish the finished drinks with a cinnamon stick for a garnish with a fancier feel.
Looking for something a little stronger? Instead of adding just the wine and cider, you can add some liquor into the mix. You could add a shot of Fireball to each glass prior to serving for a nice cinnamon kick. If you really want kick, you can instead add a shot of Crown Royal Apple or Jim Beam Apple to each glass.
If you know your crowd is going to want to enjoy some kick in their cocktail as well, you can have the bottles out ready to self serve- or just add it straight into the pitcher.
If using fireball, we tend to add a half cup. We like to taste the cinnamon, but don't want it to overpower the appley feel. If using the whiskey or bourbon, I'd suggest adding 3/4 of a cup to the pitcher. Stir well before serving to make sure it's all evenly mixed together.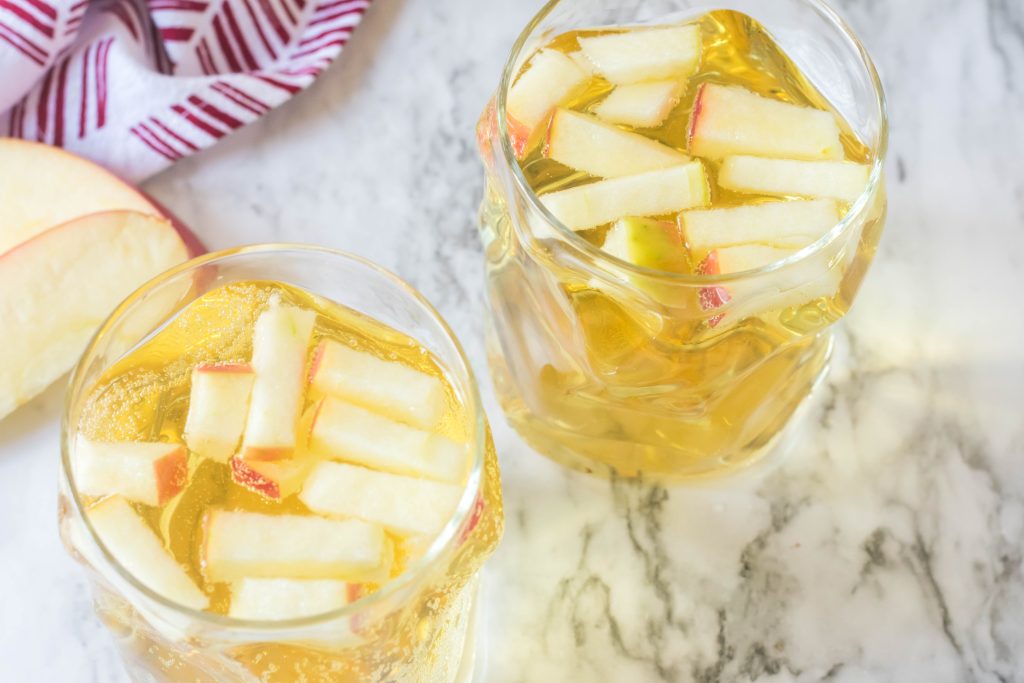 Other Delicious Fall Cocktails
Looking for a fuller bodied spiced apple cider sangria? Try this spiced apple cider sangria with red wine that can be served warm or cool.
I'm also a huge fan of this pumpkin martini. And this apple and gin autumn cocktail? Oh yes.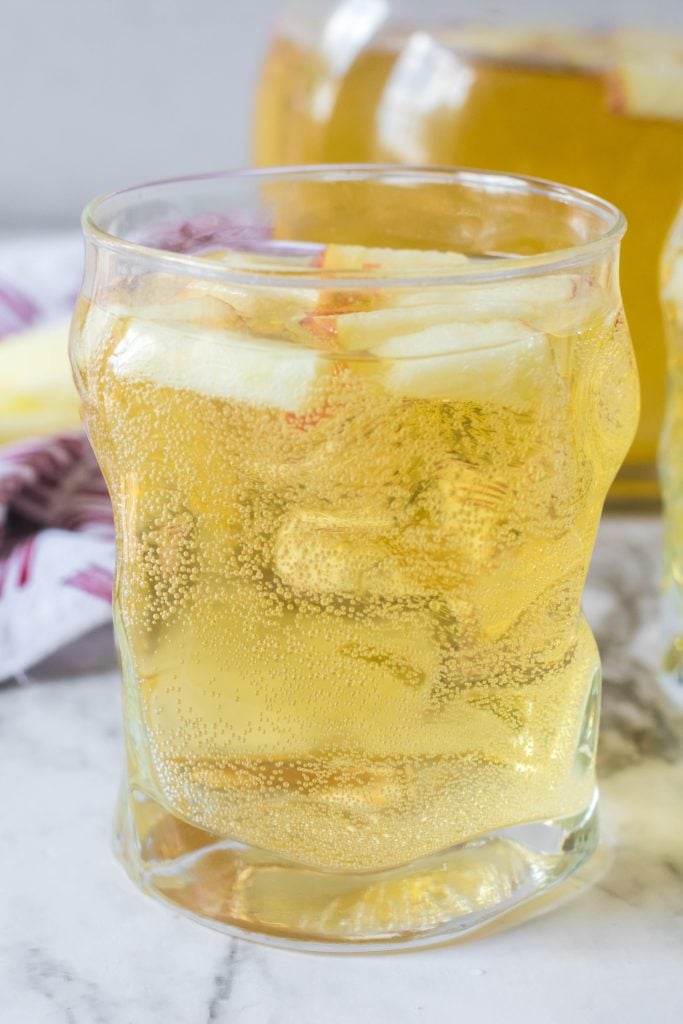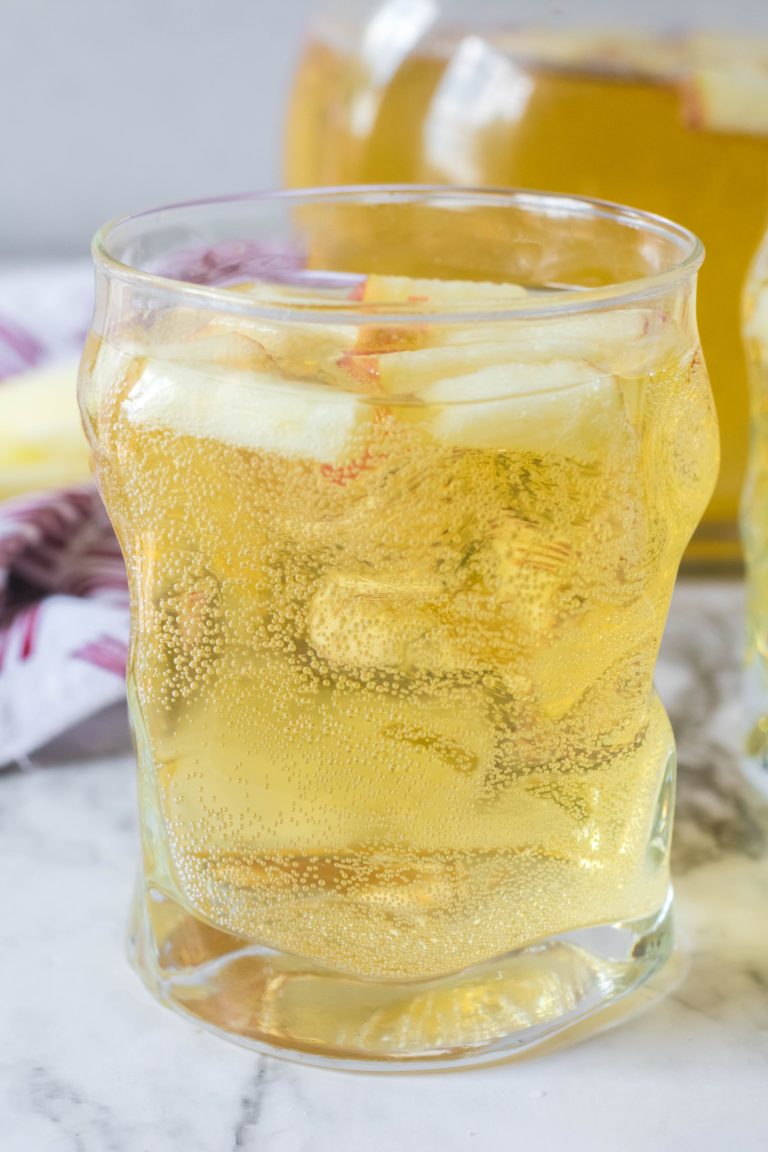 Don't let autumn turn into winter without taking the time to make this easy apple sangria and celebrating the golden days of fall.
The post Apple Cider Sangria appeared first on 4 Sons 'R' Us.